2016-2017 Projects
This year's ambitious Faculty Collaboration Grant projects highlight our focus on collaborative, interdisciplinary research with local and global impact. We have awarded over $41,000 to support the work of 11 researchers from 11 different departments and seven different colleges. The three projects receiving funding tackle complex issues related to language preservation and pedagogy, cultural and linguistic translation and refugee narratives.
 
Student speaking during a Dismantling Fear round-table discussion. Photo by Bat-Orgil Bat-Erdene
Dismantling Fear: Voices from Tucson's Refugee Community
Orhon Myadar, Assistant Professor of Geography and Development (SBS), and Lisa Hochtritt, Assistant Professor of Art (CFA), are working to collect oral histories of Tucson's refugee communities in order to provide a platform for their voices and raise awareness of their plights. The refugees' stories will be illustrated through artmaking workshops, which will create a space where community members can share their stories. Their stories will be made publicly available. This project will also examine how refugee narratives vary by region, along with spatially illustrating their stories by mapping geographic points of reference. The research serves as important outreach to marginalized communities along with bringing academic attention to refugee issues. The team also includes Stephanie Troutman from the Department of English (SBS) and Joseph Farbrook from the School of Art.
"The inspiration for the project began with a student of mine," said Myadar, "who came to Tucson as a refugee after fleeing the Somali civil war. His extraordinary story of trauma, pain and perseverance inspired me to uncover and share stories of other refugees in Tucson."  Learn more about this project and some of Tucson's refugees by clicking here!
Language Mediation and Translation for Global Research: A Resource Center
Sonia Colina, Professor of Spanish and Portuguese (COH), and Anna O'Leary, Associate Professor and Head of Mexican American Studies (SBS), seek to improve how cross-cultural research projects use multilingual research instruments and materials. By assessing the need for culturally and linguistically adequate instruments in global research and the most recent information about developments in translation studies and related fields, this project builds institutional capacity to assist researchers with project-specific, cross-cultural and linguistic needs. They are working with collaborators Nicole Marrone, an Assistant Professor of Speech, Language and Hearing Sciences (COS), and Maia Ingram, Deputy Director of the Arizona Prevention Research Center in the College of Public Health's Department of Community, Environment and Policy.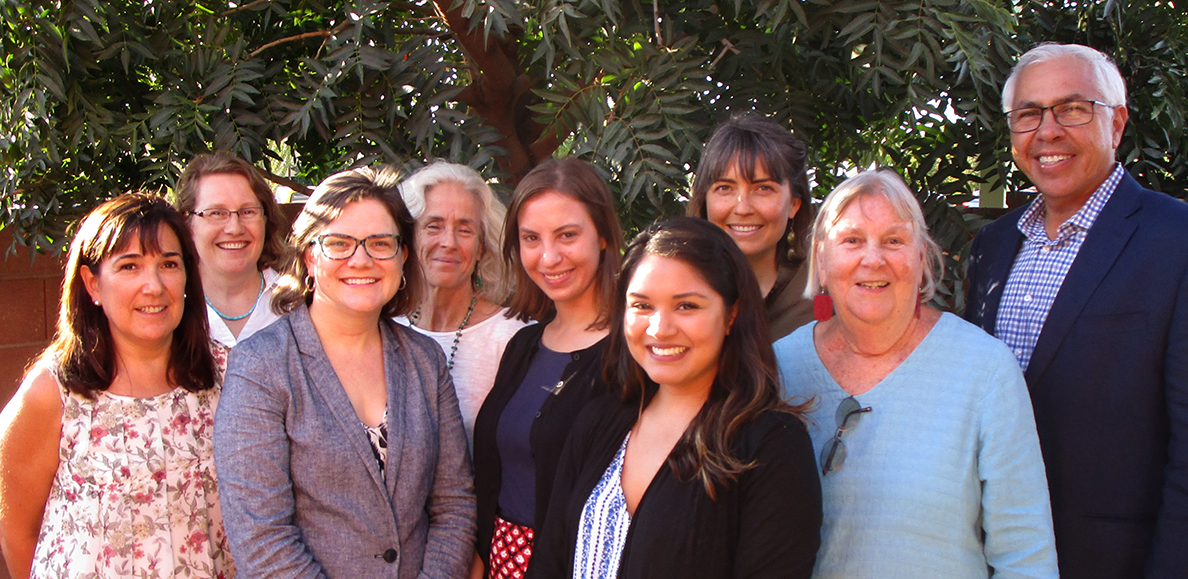 Student speaking during a Dismantling Fear round-table discussion. Photo by Bat-Orgil Bat-Erdene
"The team aims to develop a model that can be funded by external sources and replicated at other universities that will also serve to usher in an innovative-forward looking role for the humanities in the research-intensive university," Colina said.
Arabic Language Planning in Egypt: An Interdisciplinary Approach
In order to address growing "English-ization" and globalization in Egypt, Mahmoud Azaz, Assistant Professor of Arabic Language and Linguistics (SBS), and Olga Bever, Director of the Environmental Media Research Initiative (COE), with Mary Carol Combs, Associate Professor of Teaching, Learning and Sociocultural Studies (COE), will investigate language acquisition planning models that promote Arabic learning in Egypt. Through analyzing how Arabic language perception in Egypt has changed, this project aims to propose best practices for Arabic language teacher training and curriculum development.
"To better understand this complex reality and contribute to changing it, this collaborative project offers an adequate language-planning model that reinstates standard Arabic in Egypt," Azaz said. "In achieving this aim, we will enhance existing interdisciplinary research that bridges language policy, educational planning and language pedagogy."
2015-2016 Projects
Investing in creative, collaborative and interdisciplinary research is our driving focus; our Faculty Collaboration Grant awards prove it. We're providing funding for five projects that include 18 researchers representing 17 different departments across the colleges of Fine Arts, Humanities and Social and Behavioral Sciences. The research ranges from utilizing virtual environments as a teaching tool to exploring how depth is perceived in art; from the linguistics of intergenerational phone calls to capturing oral histories of our borderland communities and providing artistic performance platforms to the voices of the displaced.
 
Virtual Harlem: A Geographically Accurate Virtual Reality Environment
Africana Studies Associate Professor Bryan Carter (COH) and former Music Associate Professor/School of Information, Technology, and Arts Professor Kelland Thomas created a virtual reality representation of 125th Street as it stood in the 1920s Jazz Age and the golden age of the Harlem Renaissance. This project allowed participants to experience Virtual Harlem in an immersive environment where they can better understand the social, cultural, political and economic relations that shaped the Harlem Renaissance. View the video. Learn more about the project's outcomes.
Space and Place: Perceiving Depth in Contemporary Landscape Art
Thomas Bever, Regents' Professor of Linguistics, Psychology and Neuroscience (SBS), in conjunction with Associate Professor Martina Shenal, School of Art, and Regents' Emeritus Professor of Philosophy Kevin Lehrer, explored how depth is perceived in art and how behavior and neurological processes differ as a function of artistic experience. This study of the aesthetic experience integrates art and science in ways that elaborate on how and why audiences gravitate to certain works of art.
 
Barrio Stories Project
Mexican American Studies Professor Lydia Otero (SBS) and Theatre, Film and Television Assistant Professor Elaine Romero (CFA) – in collaboration with Borderlands Theater –  worked alongside youth, anthropologists, historians and playwrights to collect oral stories from the Barrio Libre neighborhood, which was demolished in the late 1960s to build the Tucson Convention Center complex. The narratives were theatricalized, in March 2016, by a team of three award winning playwrights to illuminate the neighborhood's rich history and reclaim the voices of its community members. Visit BarrioStories.org to learn more. Learn more about the project's outcomes.
Intergenerational Telephone Calls: Linguistic and Communicative Parameters
Associate Professor of Spanish and Portuguese Ana Carvalho (COH) and Senior Research Scientist Malcah Yaeger-Dror (SBS), along with a team of Communication and Linguistics experts, collected and studied a corpus of telephone conversations between monolingual and bilingual students and their grandparents to investigate the linguistic and communicative dynamics of cross-generational interactions. This corpus helped develop models of supportive and adversarial communication strategies and fine-tuned software for the recognition of multicultural and multigenerational speech. Learn more about the project's outcomes.
Border Cowboys
J.C. Mutchler, Associate Research Historian at the Southwest Center (SBS)  and Art Professor Jackson Boelts (CFA) created a cross-disciplinary examination of ranches and ranchers along the U.S.-Mexico border that led to a better understanding of the cultural complexity and rich history of the borderlands. Through collecting and analyzing oral histories, photography and public history, the team recreated and documented cultural narratives of our unique borderlands communities.
2014-2015 Projects
Through the nearly $93,000 we awarded for the 2014-2015 academic year, Confluencenter supported tangible, compelling work for the social, artistic and academic benefit of our campus and community. We were thrilled to support six projects that include 25 faculty members from the colleges of Fine Arts, Social and Behavioral Sciences, Humanities, Medicine and Engineering.
 
Musical Cognition, Emotion and Imagery
UA School of Music Associate Professor Donald Kinser-Traut (CFA) collaborated with Dan Kruse, a 2012 UA graduate with a Master's in Ethnomusicology, and with Andrew Lotto, Associate Professor in Speech, Language & Hearing Sciences, to conduct a research study on why "ear worms" – the tunes that get stuck in our heads – arrive in our minds, and why they stay there. Read the Arizona Daily Star article to learn more about the project, or watch the video! Learn more about the project's outcomes.
A Poetry of Art: Burchiello Redressed
Art Professor David Christiana (CFA) created interpretive etchings of poems by Burchiello, and Aileen Feng and Fabian Alfie from the French and Italian Department (COH) presented research and translations into this Florentine's work for an exhibit at the Poetry Center. Learn more about the project's outcomes.
The Dance of Baseball: An Exploration of Aesthetics
Assistant Professor Amy Ernst (CFA) and Fine Arts Dean Jory Hancock joined faculty in the colleges of Medicine and Engineering to study human movement in baseball and dance to provide a holistic approach for analyzing the aesthetics of movement.
Kinuta: Noh Soul in Western Garb
James Cook (CFA) and Noel Pinnington (COH), associate professors of Art and East Asian Studies, respectively, created a screenplay of the Japanese Noh play, Kinuta. While retaining the Zen influence, the screenplay is infused with contemporary language and Western social trappings. Learn more about the project's outcomes.
Turkey in Theory: An Interdisciplinary Workshop
Director of the new Arizona Center for Turkish Studies, Brian Silverstein (SBS), and Salih Can Açiksöz, Assistant Professor of Middle East and North African Studies (SBS), organized a two-day workshop on contemporary Turkish society, history, politics and arts. View the pdf schedule of events. Learn more about the project's outcomes.
Translating Transgender
Susan Stryker, director of the Institute for LGBT Studies (SBS), and Assistant Professor of German David Gramling (COH) invited 18 leading scholars in Translation Studies and Transgender Studies for a three-day workshop that included a translational "slam" and curated reading for the public. Learn more about the project's outcomes.
2013-2014 Projects
In May 2013, five projects including two documentaries, a digital archive, a virtual venue and two innovative studies received Confluencenter Faculty Collaboration Grants. The competition for these grants is open to faculty from the colleges of Fine Arts, Humanities and Social and Behavioral Sciences. The funded projects for the 2013-2014 academic year were:
New Blueprint for Success: Micro-entrepreneurs and Cooperatives in Brazi

l
Dan Duncan (SBS), a filmmaker at the Southwest Center, and Marcela Vasquez (SBS), associate professor in the School of Anthropology, produced a series of television documentaries that investigated innovative entrepreneurial grassroots ventures in one of Brazil's most marginal urban contexts—the favelas of Rio de Janeiro—and revealed a blueprint for entrepreneurial success. Learn more about the project's outcomes.
Disciplinary Trading Zones: A Focus on Methodological Imports
Associate professor of sociology Erin Leahey (SBS) studied interdisciplinary research itself, examining three different methodological techniques to determine how research approaches are transferred across disciplines. This study furthered Confluencenter's mission of collaboration by providing practical suggestions for supporting interdisciplinary work. Learn more about the project's outcomes.
The Documented Border: An Open Access Digital Archive
Journalism faculty Celeste González de Bustamante (SBS) and Jeannine Relly, Lawrence Gipe (CFA) from the School of Art, and the borderlands curator at UA Special Collections in the library, Verónica Reyes-Escudero, joined forces to collect images and oral histories for a website about the U.S./Mexico border in order to advance understanding of the border and its peoples. Learn more about the project's outcomes.
Satire News, Civil Discourse and the Political-media Complex
Currently, very little is known about viewers' perceptions of satire news. Professor of sociology and research director at the National Institute for Civil Discourse, Robin Stryker (SBS), studied how programs such as The Daily Show and The Colbert Report shape students' understandings of and engagement with American democracy. Learn more about the project's outcomes.
Crossing Boundaries Seminar Series
Linda Green (SBS), director of Latin American Studies, and Matias Bianchi (SBS), School of Government and Public Policy, used innovative technologies to create a virtual seminar series linking UA faculty and students with scholars and other leaders in Latin America. Seminar discussion topics included: Drug Policies in Latin America: From Repression to Regulation, Elections in Bolivia: What's at Stake?, Foreign Debt and Human Rights, Regional Integration in the Americas - Challenges and Perspectives, Social Movements in the Digital Era, Social-Environmental Conflicts in Latin America: Lessons from the Yasuni in Ecuador. Learn more about the project's outcomes.
Focusing the Universe
School of Theatre, Film and Television faculty Peter Beudert and Michael Mulcahy (CFA) are making a documentary that explores the influence of one of the University of Arizona's greatest treasures: the Steward Observatory. The original observatory was conceived and built by A. E. Douglass nearly 100 years ago. The funding came in 1916 when Lavinia Steward donated $60,000 to UA to build a telescope in her husband's name, Mr. Henry Steward, in order to memorialize her late husband.The influence and presence of both the Observatory and Douglass are the bedrock of modern astronomy at the University, in Southern Arizona, around the world and even in space. Learn about the project's outcome.
2012-2013 Projects
Six faculty members were awarded five grants averaging $25,000 each at the grand opening of Confluencenter for Creative Inquiry at the University of Arizona. Ranging from hip-hop culture to mortgage indebtedness, these innovative projects with partnerships across the campus reflect Confluencenter's mission to enliven academic education and invigorate life-long learning among its diverse constituents – from UA faculty and students to inquisitive Arizonans. These are the winners:
Interdisciplinary Communities of Engagement: The Group for Early Modern Studies
Professor and associate head of the department of English, Dr. Meg Lota Brown (SBS), was awarded a grant to support this consortium of community members and more than 125 faculty and students from 17 departments — including art, history, literature, music, science and theater — in five colleges, all of whom pursue research in the early modern period (roughly 1400-1800). They presented a series of six lectures in the 2012-2013 school year. Learn more about the project's outcomes.
The Poetics and Politics of Hip-hop Cultures
Director of the School of International Languages, Literatures and Cultures (SILLC), Dr. Alain-Philippe Durand (COH), received funding for a symposium (Feb. 7-9, 2013), performances and a journal on the emergence and evolution of hip hop in the U.S. and France. His collaborators were: Alex Nava, an associate professor of classics; John Melillo, a visiting assistant professor in English; Tani Sanchez, an adjunct lecturer of Africana studies; and Praise Zenenga, an associate professor of Africana studies. Click here for the feature on Arizona Illustrated. Learn more about the project's outcomes.
Culture of Mortgage-based Homeownership in Crisis
Assistant professor of sociology Dr. Jane Zavisca (SBS) and Marilyn Robinson (CAPLA), associate director of the Drachman Institute, examined the cultural equation of mortgage indebtedness and homeownership with three initiatives: a study of mortgagors in Tucson; a symposium for scholars, policymakers and community stakeholders on the meaning of mortgages and homeownership; and an external grant proposal to support a national research network to encourage interdisciplinary research on the topic of housing and the home. Learn more about the project's outcomes. 
The American Indian Interactive Film Gallery: An Interdisciplinary Visual Archive
Dr. Jennifer Jenkins (SBS), associate professor of English, was funded to launch an interactive website – AIFG.arizona.edu. It features a collection of more than 450 films by and about Native peoples of America, representing dozens of tribes from Anasazi to Zuni. Many of the films date back to the early days of filmmaking and include government informational films, the renowned 1922 film Nanook of the North and a series of documentaries produced by television station KYUK in Bethel, AK spotlighting life among the Yup'ik of southwestern Alaska. Learn more about the project's outcomes.
The Precariat: An Intellectual History and Digitally Enhanced Learning
Dr. Hai Ren (COH), assistant professor of East Asian studies, and Dr. Jonathan Sprinkle, assistant professor of electrical and computer engineering, studied the history of the emergent class, the precariat: people whose lives and finances are precariously impacted by economic shifts, social insecurity and globalization. Thorugh the use of innovative technologies, Ren and Sprinkle developed an interactive mobile application to inform others about their findings. 
2011-2012 Projects
The Art History of Air and Water in Mexico
Professor of Art History Stacie G. Widdifield (CFA), worked with Geography and Development Professor Jeffery Banister (SBS) to examine the role that Chapultepec Park – a historically significant site in the middle of Mexico City – has played in the relationship between humans and water in the midst of a dynamic urban milieu. The role of visual images, i.e., land- and aqua-scapes, in the development of public sensitivities to resources was a key part of the investigation. The park is also an elegant reflection of the larger struggle — in Mexico and across the planet —to protect the global commons in the face of rapid environmental change and to create a sense of connection between people and the places that sustain them. The project included an on-line exhibition of the works studied in the project and those created in a new graduate seminar, "Waterworks," as well as a week-long "think tank." The team includes faculty, staff and graduate students as well as a scholar affiliated with the Universidad Nacional Autónoma de México and the Instituto Nacional de Antropología e Historia. This work led to an American Council of Learned Societies Collaborative Research Fellowship and published articles, including: Seeing Water in Early Twentieth-century Mexico City: Henry Wellge's Perspective Plan of the City and Valley of Mexico, D.F., 1906 in Anales del Instituto de Investigaciones Esteticas (2015) and The Debut of 'Modern Water' in Early 20th century Mexico City: The Xochimilco Potable Waterworks in the Journal of Historical Geography (2014). In June 2016, the Oxford Research Encyclopedia of Latin American History published The History and Visual Culture of Mexico City's Xochimilco Potable Water System during the Porfiriato. Learn more about the project's outcomes.
Rough and Tumble: Taking Play Seriously
Film & Television Professor Yuri Makino (CFA) collaborated with UA primatologists Dr. Dieter Steklis and Netzin Steklis to produce "Rough & Tumble: Taking Play Seriously," a 25-minute documentary that explores the beneficial role of human play through the play of wild gorillas, dogs and dolphins. The film draws a connection between the study of play in non-human animals and the crucial role play functions in human development. Human play is usually thought of as a childhood pastime, but play imparts critical skills or experiences that are life-enhancing. While play may seem trivial in our lives, it may define who we are and how we came to be. Experts featured in the film include the UA primatologist team Dr. Dieter and Netzin Steklis; Educational Psychologist Dr. Anthony Pellegrini of University of Minnesota; Evolutionary Biologist Dr. Marc Bekoff of Boulder, Colorado; Neuroscientist Jaak Panksepp of Washington University and Seattle-based nature writer Brenda Peterson. Learn more about the project's outcomes.
Effectively Employing 3-Dimensional Effects to Enhance Student Engagement in Online Learning
Dr. Heshan Sun, assistant professor in the School of Information Resources and the College of Science, and Dr. Mary A. Peterson, professor of psychology, tackled the question, "How can 3D effects be used effectively to enhance student engagement in the primary learning tasks?" They combined their expertise in visual science and human‐computer interaction to create a study employing more than 100 UA students. The results of the study contribute to revolutionizing the growing field of 3-D web-based learning.
The Christian Right in Contemporary American Culture and Politics
Dr. Karen K. Seat (COH), associate professor of Religious Studies, was awarded the Provost's Grand Challenges Faculty Grant for this project which took her to such places as the Faith & Freedom Coalition Conference, a Southern Baptist convention, Pat Robertson's Regent University, Liberty University School of Law, Phoenix Seminary and the Smart Girl Politics conference. She interviewed dozens of leading social conservative and Tea Party activists, lobbyists, professors and talk show hosts. A central piece of her research is an examination of gender in conservative Christian movements and her most prized interview was with 86-year-old anti-feminist icon Phyllis Schlafly. Karen's expertise on evangelicals in America made her an in-demand speaker during the Republican primaries. She has presented the following papers at scholarly conferences: "The Christian Worldview as a Master Narrative: Negotiating Gender and Politics in Evangelical Subculture(s)," "The Politics of Southern Baptist Complementarianism" and "Evangelicals and Women's Leadership in the Post-Palin Era." She also has been approached by two scholarly presses about writing a book. Learn more about the project's outcomes.
Multilingual, 2.0?
Confluencenter was a principal sponsor of this international symposium on multilingualism held at the UA in April 2012. Coming from disciplines as diverse as computational linguistics, anthropology, second language acquisition, comparative literature and translation studies, a body of prominent scholars from around the world met for a public discussion about what it means to live in more than one language in the 21st century, including all of the emotions, politics, identities, practices, pleasures and dangers that doing so can involve. More than 200 people attended this three-day event, as well as 250 individual online viewers from around the world. Information on the symposium is at Multilingual.arizona.edu. Issues of the peer-reviewed journal, "Critical Multilingualism Studies," that emerged as a result of this conference, can be found here. This publication traces "state of the art" multilingualism research across disciplines that often lack a common venue for dialogue on this burgeoning topic. The Confluencenter grantees for this project were two assistant professors in German Studies (COH), David Gramling and Chantelle Warner, as well as an assistant professor in Turkish Studies, Aslı Iğsız. Learn more about the project's outcomes.
Food Security and Equality Across Borders
In the desert borderlands of the U.S. and Mexico, water scarcity is one of many driving factors threatening food security, particularly for people in Arizona and Sonora. The food production and distribution systems in these two states are already vulnerable. But climate change may further de-stabilize them, making food insecurity and inequity even more common. This project examines the vulnerabilities in our shared food and water resources and finds a means of creatively communicating these problems and their potential solutions to farmers, ranchers, cooks, chefs, policy makers and activists on both sides of the border. This project bolsters the efforts of Sabores Sin Fronteras, an interdisciplinary team at the Southwest Center, bringing together political geographers, water policy analysts, applied anthropologists and agroecologists; and it builds on the Center's long collaboration with researchers of the Centro de Investigaciones en Alimentación y Desarrollo, based in Hermosillo, Sonora. Among the scientists engaged are: Jeffrey Banister, Maribel Alvarez, Gary Paul Nabhan, Margaret Wilder, Ernesto Camou Healy, Kraig Kraft and UA graduate student Laurel Bellante. Learn more about the project's outcomes.
2009-2010 Projects
As Confluencenter for Creative Inquiry was being formed, the office of the provost established the Arts, Humanities and Social Sciences (AHSS) Grants and funded eight proposals involving 22 faculty members across campus during the 2009-10 academic year. The management of these grants was transferred to Confluencenter and the Office of the Vice President for Research. Presentations of each project were made across campus in 2010 and 2011.
Speed
Six faculty members from four departments—Peter Beudert and Philip Blackwood (Theatre, Film & Television), Norm Weinberg (Music), Jory Hancock (Dance) and Jerzy Rozenblit and Hal Tharp (Electrical and Computer Engineering)—worked together to produce Speed, a large-scale collaborative public performance with computer-controlled machines, where movement, music and set design interact. Learn more about the project's outcomes.
Ground|Water The Art, Design and Science of a Dry River
Ellen McMahon (Art) collaborated with Beth Weinstein (Architecture) and Ander Monson (English) on a project exploring ways in which art, design and science can collaborate to raise public awareness of environmental issues. With help from UA science consultants and the Rillito River Project, the team and students created Ground|Water The Art, Design and Science of a Dry River, a book of art and creative writing published by UA Press. Learn more about the project's outcomes.
De-Centering Cold War History
Jadwiga Pieper Mooney (History) joined forces with Fabio Lanza (History and East Asian Studies) and Elizabeth Oglesby (Geography and Regional Development and Center for Latin American Studies) to host a 4-day conference titled "De-Centering Cold War History: Street- Level Experiences and Global Change." They published selected presentations in a book which focused on cutting-edge research in the study of the Cold War. Learn more about the project's outcomes.
Immigrant Mothers with Citizen Children
Eithne Luibheid (Gender & Women's Studies), Sally Stevens (Southwest Institute for Research on Women) and Spike Peterson (School of Government & Public Policy) studied the barriers facing immigrant parents in Southern Arizona who seek public benefits for their citizen children. A third of children in Arizona have immigrant parents, many of whom are reluctant to seek access to public services and benefits for them. Read the team's article Intimate attachments and Migrant Deportability: Lessons from Undocumented Mothers Seeking Benefits for Citizen Children in Ethnic & Racial Studies. Learn more about the project's outcomes.
Yaqui Oral History
Heidi Harley (Linguistics) and Bill Beezley (History) studied 14 hours of personal narratives by Yaqui elders taped in the 1960s-2000s and had them digitally re-mastered, transcribed and annotated. These tapes are valuable because they preserve the conversational language of a past generation of native speakers and provide rare first-hand evidence of the persecution of the Yaqui people by the Mexican dictatorship.
Developing Ultrapraat: Software to See How We Speak
Diana Archangeli (Linguistics) partnered with Ian Fasel (Computer Science) and Jeff Berry, a linguistics graduate student, on "The Arizona Articulatory, Acoustic, and Visual Speech Data- base" project. The team extracted data from videos of the lips and tongue for the beginnings of a dataset that eventually will include audio, nasal airflow and vocal folds data, as well as ultrasound images of the tongue and video of the lips and face. Learn more about the project's outcomes.
Snail Paces: The Political and Cultural Ecology of the Dye-Producing Snail Plicopurpura Columellaris from the Gulf of California to the Galapagos
James Greenberg (Anthropology) studied a species of marine snail that produces an intense purple dye and how its high value in some places and low value in others affect the sustainability of its population. He collaborated with Raphael Sagarin (Institute of the Environment) to explore how effective certain regulations are in protecting populations of the snail to study the intersection of state regulation, markets and stakeholder communities and how those relate to the sustainable uses of natural resources. Associated research part of the 2012 book Neoliberalism and Commodity Production in Mexico, released by University of Colorado Press.
Mexican American and American Indian LGBT Communities
Rosario Carrillo (Mexican American Studies) worked on a project to videotape interviews with lesbian, gay, bisexual and transgender people in the Mexican American and American Indian communities to enhance the current archival holdings of the Arizona LGBT Storytelling Project Archive and to publish journal articles on the intersection of language, sexuality and identity.